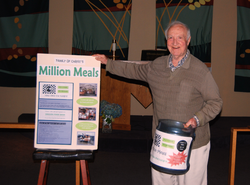 Million Meals
The effects of the Great Recession hit our community hard. Times seems to be improving and yet, according to the USDA food insecurity has remained near record levels. In Washington, 14.2% of households are food insecure due to a lack of economic resources. The national average per state in 14.5%. These are staggering numbers. At Family of Christ, we are determined to do all we can to help our neighbors.
Read more...
---
Family of Christ Serves Their Neighbors in These Ways
Friends of the Carpenter
Friends of the Carpenter is a day shelter for homeless individuals where everyone is welcomed as a friend.
Visit there website here
Neighbor's Helping Neighbors
A non-profit organization helping the needful in the surrounding areas of zip codes 98642 (Ridgefield), 98629 (La Center), 98686 (Salmon Creek), and 98685 (Felida).
Learn more
Winter Hospitality Overflow Shelter
WHO stands for the Winter Hospitality Overflow, a Vancouver, WA-based organization devoted to helping those in need during winter's coldest months.
Learn more
Family of Christ is a proud sponsor of Cub Scout Pack 494 & Boy Scout Troop 479 Link to Boy Scouts of America